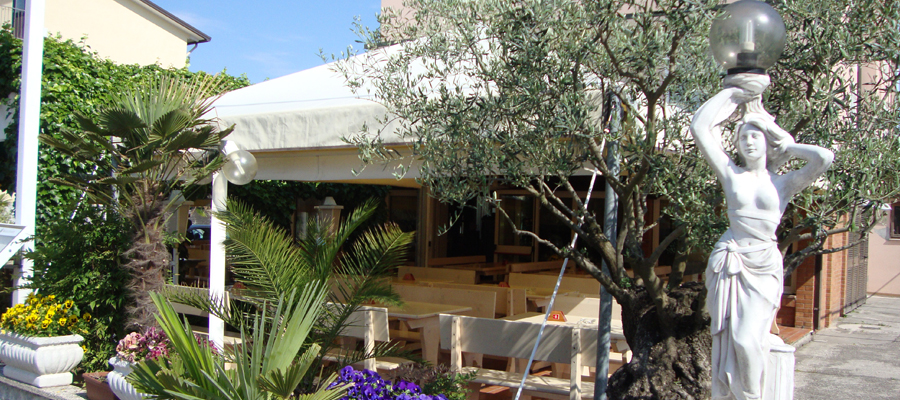 Our Hotel is your home!
The Enzo family looks forward to welcoming you to their Hotel where you will feel at home and well looked after
The Hotel Villa Ginevra is situated in the tranquil and quiet area of Cavallino-Treporti, far from the main road and only 700 meters from the beach, it is a family run business, ideal for all sun and nature lovers, for those who enjoy the outdoors and long bike-rides around the Venetian lagoon countryside.
The Hotel Villa Ginevra rooms have been recently renovated and all now have airconditioning, you can also use the Internet from anywhere in the Hotel with your own PC. All rooms have showers, telephone, controlled air-con unit and satellite TV.
he hotel also has a large terraced area for the restaurant and pizzeria. Our guests will always have the pleasure of freshly prepared dishes, made from the highest quality products, typical of the local area. The Villa Ginevra not only offers delicious fish and meat dishes, but also pizzas prepared with soya flour, complete with the best topping ingredients in produce.
The Enzo family looks forward to welcoming you to their Hotel where you will feel at home and well looked after! We wait for you at Cavallino- Treporti, Venice!
In just under 10 minutes you can get to the ferry port and catch the boat to Venice and the islands of the lagoon, Murano, Burano and Torcello. For all guests who like the night life, you can find pubs, bars, live concerts in the piazzas, discos and shops at the nearby town of Jesolo, just 3 km from the Hotel.
---
Other services offered
LCD TV
In every room we provide a television with digital and SAT programs, and for those who don't want to renounce to a DVD player or a Playstation, the televisions are equipped with the most modern plugs.
Wi-Fi Connection / access
Internet Wi-Fi connection is free of charge and available in the whole hotel with your Notebook or Smartphone.
Breakfast
Per la colazione l'Hotel Villa Ginevra prepara ogni mattina il pane e delle soffici brioche al burro nella propria cucina. Troverete inoltre nel vostro tavolo burro, marmellate, miele, nutella, prosciutto, formaggio.
For breakfast, Hotel Villa Ginevra bakes every morning bread and soft butter croissants in its own kitchen. On each table you will also find butter, jams, honey, Nutella, ham and cheese. As drink you can choose within the classic coffee preparations (cappuccino, American coffee, espresso, etc.), milk and chocolate, different flavors of hot tea and juices.
Safe
At our reception all Guests, who wish to keep safe their valuable goods, can ask for them to be kept in our safe which is free of charge.
Parking
Parking area directly beside the hotel entrance for the loading and unloading of your luggage. 20 meters from the hotel you find a large private parking area, free of charge.